Education & Initiatives
Providence College is committed to offering our community programming, resources and events that educate and build awareness about sexual misconduct. We're constantly developing and evaluating our programming and initiatives, so if you have thoughts on different ways to reach out and educate our PC community, we welcome your suggestions. Please contact Rachel Andoscia, Title IX Coordinator (randosci@providence.edu) to share your ideas. Listed below are initiatives, programs and materials recently conducted and/or currently available to the PC community.
First Year Students
Students – All Class Years
Resident Assistant (RA) and Hall Director Training
Ongoing Bystander Training (Club Sports, Orientation Leaders/RAs)
Title IX Education & Discussion Sessions (Student Congress)
Huddle Up (Varsity Athletics – Bystander Training)
It's On Us (Varsity Athletics – Men's Basketball, Men's Ice Hockey, Men's Lacrosse)
Pre-study abroad orientation
Sexual Assault Awareness Month programming (April)
Resources Stickers (on-campus male and female bathroom stalls)
Faculty/Staff
Ongoing meetings and training for Title IX Deputy Coordinators
Board hearing training for faculty and staff members
Title IX New Hire Orientation training for new faculty and staff members
Training/education at faculty departmental meetings
Faculty/Staff – ongoing training for faculty & staff groups about reporting resources
Culture of Respect NASPA Initiative
Providence College enrolled in the NASPA (National Association for Student Affairs Administrators) Culture of Respect program in the spring of 2019. The Culture of Respect is NASPA's key initiative to build the capacity of educational institutions to end sexual violence through ongoing, expansive organizational change. The program is a six-pillar* strategic road map that engages students, faculty, administrators, health professionals, athletes, and other campus stakeholders in implementing leading practices to shift campus culture to one that is free from sexual violence.
Providence College identified a 50-person Culture of Respect Campus Leadership Team (CLT) which included students, faculty, and staff across all divisions of the College. Guided by the NASPA Culture of Respect team, the CLT completed a comprehensive self-assessment evaluation that allows institutions to inventory their efforts to prevent and respond to sexual violence.
Results of this assessment drove the creation of the Sexual Violence Advisory & Implementation Task Force, who oversees the implementation action plan developed as a result of the Culture of Respect initiative. The Sexual Violence Advisory Implementation Action Plan outlines key goals and objectives for achieving meaningful programmatic and policy changes. While the first version of this plan was approved in Fall 2019, the effort to address campus sexual violence is an ongoing and iterative process, and the CLT continues to meet to update and revise the action plan as necessary.
*Six Pillars: Clear Policies, Multitiered Education, Public Disclosure, Schoolwide Mobilization, Self-Assessment, Survivor Support
Sexual Violence Campus Climate Survey
A sexual violence campus climate survey was administered in Spring 2015, Spring 2016, Spring 2018, and Spring 2022. Results are shared with the campus community via community presentations, and members of the College community may view the survey results on the MyPC Portal.
If you are interested in additional information about the Sexual Violence Campus Climate Survey, please contact the Title IX Coordinator.
April is Sexual Assault Awareness Month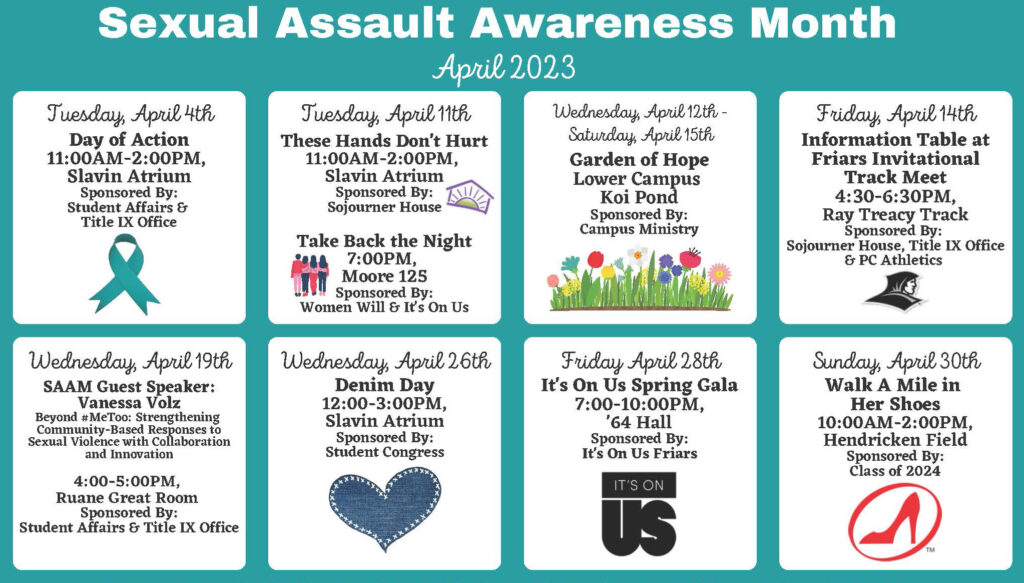 National Resources, Programs & Initiatives